UPCOMING EVENTS
LB1 Bar & Restaurant

Friday, 5th July 2019
Gales Drive, Crawley

The Crown Pub

Saturday, 6th July 2019
The Carfax, Horsham

The Crown Pub

Sunday, 25th August 2019
The Carfax, Horsham
All events open to the public.

PA hire, Staging hire & Lighting hire
Our high quality PA, Sound, Staging and Lighting systems are hired by Councils, Leisure Centres and Promoters throughout South East England for roadshows, festivals and outdoor events. From events attracting crowds of 100 to 16,000 we've got the solution to suit. What's more, our Just Unique technicians are fully qualified to provide electrical distribution around your choice of venue. Why go anywhere else when Just Unique can provide you with total event support?
Queens Square, Crawley - October 2017
Bespoke events solutions to suit your needs
We work with you to establish the type of sound, lighting and staging you're looking for, taking into account:
Audience numbers
Size and layout of the venue
Acoustic factors
Once we've assessed your event needs, we undertake a risk assessment and mix and match individual hire packages to suit your specific requirements. What's more, we deliver, set up, operate and take down your chosen configuration...so that's one less thing for you to event plan for!
A unique visual solution for attracting large crowds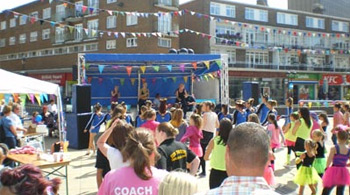 PA hire - 3,000 Watt System
Stage
Allen & Heath desks
QSC Amps
2 x OHM TRS-212 Dual Mid/Top Cabinets
2 x OHM TRS-218 Base Cabinets
Stage Hire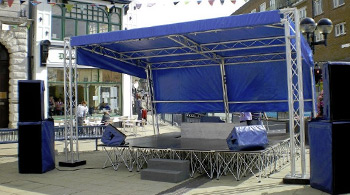 When space becomes an issue
Ideal for product launches, roadshows and outdoor events, our freestanding aluminium truss stage framework measures:
6 metres wide
5 metres deep
3.5 metres high, sloping to 3 metres
It comes complete with a blue waterproof awning, so you'll certainly be the focal point...guaranteed!
Underneath, each staging unit measures 2 metres by 1 metre and stand 600mm high, making up a stage area of:
4 metres by 4 metres, or
5 metres by 4 metres
The entire stage configuration can be easily transported no matter where your event is being held. Set-up of the framework and stage takes under an hour, ensuring labour costs are kept to a minimum.
Need more stage area? We can arrange this for you, utilising mobile stages to provide a further 42, 55 or 60 square metres. We can also source mobile LED video screens too. Let us know exactly what you're looking for and we'll take care of it all.
Live Sound Production Hire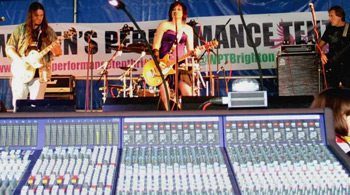 For live music events or roadshows featuring local bands, whatever the size, whatever the concept, we can put together a package to fulfil your needs. We'll provide any combination of equipment and services to suit your event, including front of house and stage monitoring engineers.
We're more than an equipment hire service
Our qualified team of sound technicians have a wealth of experience gained over 20 years in the events and entertainment industry, meaning you can be assured of a professional service that goes beyond providing equipment. Check out
what our clients have to say about us
.
Lighting Hire
We'll put together a stage lighting package to suit your needs, to include fitting and rigging.
Need a DJ or Compere for your event?
No problem. Gordon Skeggs has been pulling in the crowds for over 40 years with his unique blend of classic tracks and audience participation. Guaranteed to get the party started!
Gordon uses a 1,000 watt system, ideal for smaller venues or events attracting crowds of 100-300 people:
4 x OHM MR-228 Top Cabinets
2 x OHM MR-450 Base Cabinets
Using QSC Amps
Give us a call today on 01293 540255 to discuss how we can supply you with high quality PA, sound, staging, lighting and superior technical support at affordable prices.